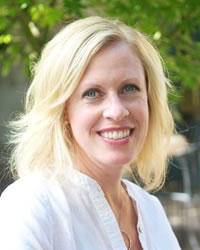 Michelle was born and raised in Chico, where she attended three outstanding, local schools: Chico Christian, Bidwell Junior High School and Pleasant Valley High School. During her years at Pleasant Valley, Michelle was very active in Student Government and cheerleading. After high school graduation, she attended California State University, Chico, where she received a Bachelor of Arts Degree with a major in Psychology along with a minor in Human Resources. Soon after receiving her degree, Michelle married her husband, Gentry Power, at Bidwell Presbyterian Church.
She was interested in pursuing a career in retail so they moved to the San Francisco area. She began as Assistant Manager for GapKids, followed by a promotion to store manager. Michelle managed several stores for GAP and was then promoted to District Manager.
For several years Michelle served as District Manager for GAP until she was recruited to Pottery Barn where she ran their flagship stores at Stanford. She was then assigned to run both the Northern Los Angeles market for a period of time in addition to the Bay Area markets.
Not long after starting her business career, Michelle had twin sons, Cameron and Harrison. By the time the boys were in fifth grade, both Michelle and Gentry found themselves wanting their boys to be raised in a positive community with a change of pace like Chico. As Michelle says, "we took a leap of faith" and moved back to her hometown. She was thrilled to have the opportunity to purchase a local, hometown coffeehouse, Bidwell Perk, and, as Michelle states, "they have not looked back since". She believes she is very fortunate to own a local business in this wonderful community.
Michelle has been extremely active in local non-profit organizations, both personally and professionally. Bidwell Perk is "proud of the fact that we make Social Awareness more than just a good idea". Some of the organizations with which she and "The Perk" are involved include the Boys and Girls Club of Chico, Soroptimist International, Rotary Club of Chico, Think Local Chico, Chico Chamber of Commerce and the Chico State Alumni Association, where she currently holds the position of President.