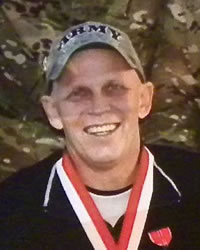 Though U.S. Army Master Sergeant Michael Trost has traveled all over the world, some of his fondest memories are of Chico and his friends from high school days. Michael moved from southern California to Chico in 1977, attending Chico Christian and Bidwell Jr. High before graduating from Pleasant Valley in 1982.
His involvement in cross country and Student Government while at PV was an important leadership primer for his future military career. As a senior Michael was the regional president of the California Association of Student Councils and traveled with Activities Director Tom Needles to speak with area schools on leadership and anti-violence.
Many of Michael's family members had served in the military which led Michael to enlist in the Army immediately after graduation. He served two terms before becoming a reservist in the California National Guard and earning his BA in History at Sonoma State University in 1995. With a love of military life and a desire to see the world, Michael reenlisted with the Civil Affairs Battalion working with foreign governments on infrastructure projects. After 9/11 he served in Iraq from 2004-2005, returning to work as an instructor at Fort Bragg for three years.
In 2008 he was appointed to the Army's 489th Civic Affairs Battalion out of Knoxville, Tennessee. The 489th was deployed to eastern Afghanistan in 2011. On February 20th, 2012, Michael was shot 6-7 times while his unit was helping build a school in southeastern Afghanistan. Michael has undergone over twenty surgeries, with more in the future, to repair injuries to his hip, hand and right leg. He was awarded the Bronze Star and Purple Heart for his service.
Michael continues to recover at his home in Maryville, Tennessee with his wife, Stephanie, who says that the support from their community has been "phenomenal." Together they farm their four acres, raising chickens and miniature horses, while also tending a one acre garden. They also volunteer in their community with Habitat for Humanity, Family Promise Maryville, TN, New Hope Children Advocacy Group Maryville, Maryville College for Military Families and the University of Tennessee International Festival. Although far from Chico at this time, Michael has many fond memories of his years at Pleasant Valley High School.