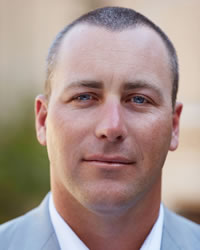 Eric Blofsky attended both Bidwell Junior High and Pleasant Valley High Schools, graduating from PVHS in 2004. Eric was extremely active in student government, Young Life and played on the volleyball team all four years. After graduation, Eric attended CSU Chico where he majored in Political Science. While attending CSUC, Eric continued on with his earlier interests, spending a few years coaching the boys' volleyball teams at PVHS and working with Young Life and The Bidwell Presbyterian Church youth organization.
Shortly after graduating from CSUC, Eric married his lovely wife, Sarah. In his short tenure since graduation, Eric has continued as a strong leader in all respects.
Eric joined Asset Management Group in January 2008 pursuing retirement plans as his area of focus. He cemented this focus by founding (k)ornerstone 401(k) Services in 2011 with William Rich after they recognized the need for specialists in the retirement plan industry. Today, (k)ornerstone is one of the premier retirement plan consulting firms in the North State.
Eric has earned the Certified 401(k) Professional designation from The Retirement Advisor University™ in collaboration with UCLA Anderson School of Management Executive Education.
In July of 2015, Eric was recognized by the National Association of Plan Advisors as one of the Top 50 Retirement Plan Advisors in the country under age 40. Eric has once again been nominated for this most prestigious award for 2016.
Eric has been involved with several local organizations serving as a youth leader for both Bidwell Presbyterian Church and Chico Area Young Life. He also is a past President of the Chico Rotaract Club. Eric continues to serve his community in other ways. He is the Committee Chair for the Chico Area Young Life and is a board member of the Chico Community Scholarship Association.
In his free time, Eric enjoys playing golf, but even there, he takes with him his sense of obligation for community service. Eric is the President of the Men's Club at Butte Creek Country Club. He works hard and he plays well; this year has earned Eric the title of 'Men's Club Player of the Year'.