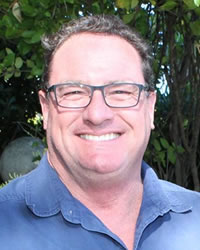 Tim O'Connell has been chosen as one of PV's top patrons for 2017-18 for his incredible contributions to PVHS over the years. Tim attended CSUC before entering the US Navy where he was a nuclear engineer on Fast Attack Submarines. Tim returned to CSUC where he graduated with a degree in Polymer Technology. After gaining experience working as a Systems Engineer in various cities, Tim returned to Chico where he started his international company, Rescue 42, Inc., which manufactures special rescue equipment for fire departments.
He also has a division called PodRunner which manufactures satellite and radio communications systems for fire, police, hospitals and other public safety organizations.
Tim and his wife, Celia, are the proud parents of two PV grads. Son Carson, class of 2013, was recruited to play football at Cal and USC, and chose Cal. Carson will graduate in December with a degree in Legal Studies and Communications, planning to work in the pre-production field of entertainment. Daughter Annika, class of 2017, is now attending Santa Monica College on the UCLA transfer track. She is interested in the business side of the entertainment field.
In addition to being in Chico Rotary for 13 years and a volunteer fireman (Company 42) since 1984, Tim has spent many hours and many dollars in giving to PVHS. A few of the projects he has worked on include working on the following for which PVHS will be forever grateful:
Original track resurfacing and field repairs
Rebuilding the snack shack and manufacturing heavy-duty vents to prevent break-ins.
Repaired and rebuilt football drive sleds
Repaired and replanted tree squares on campus
Scraped up the old track to prepare for the new
Assisted in the design of new athletic facilities
Designed Veterans Glen and coordinated and worked on the installation of all components. He designed, built and donated the blue military appreciation benches.