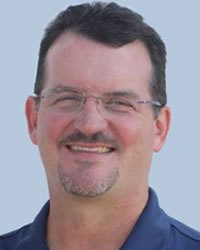 Danny Andreasen, one of PV's top patrons for 2017, was chosen for all of his hard work and generous donations to PV over the years. Danny came to Chico when he was 10 and is a PV alumnus. He studied business in college and is now a licensed General Contractor in both California and Nevada. Danny is the President and CEO of what is now known as Cleanrite-Buildrite (CRBR), which specializes in rug and upholstery cleaning, wind, water and fire restoration and construction.
His father, Verne, started the business in Chico in 1959 and it has since grown, servicing Northern California and Reno, NV and surrounding areas, employing over 125 employees. Danny took over as President when his father retired in 1991.
Danny and his wife, Shawn, have two sons, both alumni of PVHS, and both who have worked for the family business. Danny Jr, ('09) attended Butte College and is an insurance adjuster and was a volunteer fireman. Jeremy ('11) is a senior at CSUC studying Construction Management.
Danny and Shawn have spent the past 31 years devoted to family, friends, community and their business. Danny has been a Rotary member for the past 23 years, an Elks Lodge member for 30 years. He also was the Chico Jaguar President and board member for 10 years. He has done a great deal for PVHS including the following:
Pleasant Valley track and bathroom repairs
Youth Football equipment shed construction
Concrete sidewalks around the concession stand and walkways to the bleachers
Repairs to the Announcers Booth
Repairs and installation of vents in concession building
New sprinklers, grass and sod around the track
Repairs and replacement of campus benches
Managed and built the PV Veterans Glenn Project, organizing all volunteers including PV students, alumni and Rotary members.
Danny and his family enjoy the lakes, water sports, hunting, fishing, racing, cooking, traveling and family and friends. Danny feels blessed by the relationships he has built over the years via these endeavors.