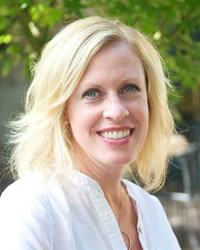 Michelle was born and raised in Chico, where she attended three outstanding, local schools: Chico Christian, Bidwell Junior High School and Pleasant Valley High School. During her years at Pleasant Valley, Michelle was very active in Student Government and cheerleading. After high school graduation, she attended California State University, Chico, where she received a Bachelor of Arts Degree with a major in Psychology along with a minor in Human Resources. Soon after receiving her degree, Michelle married her husband, Gentry Power, at Bidwell Presbyterian Church.
She was interested in pursuing a career in retail so they moved to the San Francisco area. She began as Assistant Manager for GapKids, followed by a promotion to store manager. Michelle managed several stores for GAP and was then promoted to District Manager.
For several years Michelle served as District Manager for GAP until she was recruited to Pottery Barn where she ran their flagship stores at Stanford. She was then assigned to run both the Northern Los Angeles market for a period of time in addition to the Bay Area markets.