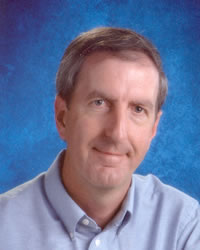 Growing up in Chico, Randy attended Sierra View Elementary, Bidwell Junior High, and Pleasant Valley High School, graduating in 1977.  He credits his many outstanding teachers throughout his childhood as well as two parent educators for his interest in pursuing a teaching career.  After completing his BA Degree at CSU-Chico, Randy returned to Bidwell Junior High for student teaching and where he began his coaching profession.  Later he was hired as a full time instructor at Chico Junior High School where he taught History, Geography, Physical Education, and Human Biology.  It was during this time that he helped inaugurate and coach the girls' volleyball program at Chico High School. 
In 1993, when ninth graders were transferred from the junior highs to the high schools, Randy began teaching at Pleasant Valley as well as serving there as Athletic Director.  Randy spent 15 years in this position and during this time was elected President of the Northern Section Athletic Directors Association.  When he transferred to PV, Randy began coaching girls' varsity volleyball there, serving 11 years as a head coach.  He also worked for 10 seasons as an assistant for boys' varsity basketball with Coach Denny Varley, whom he considers the most influential person in his career. 
In l994 Randy became head coach of boys' varsity basketball at PV and continues in this position today.  During his years of coaching varsity volley ball, Randy's teams have garnered 9 League titles and 1 Section Championship with 3 Section runners-up.  In 30 years as a basketball coach, with 17 of those in a head coaching capacity, his teams hold 7 league titles, 5 Section Championships and 6 Section runners-up. 
Currently Randy teaches sophomore World History at PV, and, although no longer Athletic Director, he continues to generously contribute his time to athletics.  He is the Secretary/Treasurer of Northern Section Athletic Directors Association and is President-Elect of the Calif. State Athletic Directors Association.  He is currently on the Executive Committee of the NSCIF and serves as their Basketball Advisory Committee Chairman, assisting in both the Northern Section and the State Basketball playoffs.  In addition, Randy is Chairman of the Sportsmanship Committee of the State Basketball Championships and holds the position of Section Vice President of the California State Athletic Directors Association.