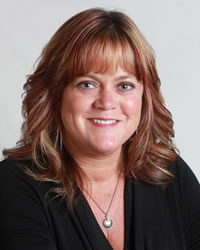 Laurie Tindill Maloney has spent her entire life as a member of the Chico community and she has made that very community the center of her life's focus and work: helping others. Laurie began her involvement in community service while working in the banking business. As a personal banker, she represented the bank in the community by participating in the organization of various philanthropic events.
While co-chairing one of the Boys and Girls Club's earliest major fundraising events, she became aware of just what a gracious and giving community Chico is to those in need.
Several years of serving holiday meals for The Jesus Center left Laurie inspired to convince then director, Bill Such, to hire her part time to use her contacts to help raise money for the Center. She was immediately successful in helping to expand the Center's fundraising efforts. At that time she switched careers to real estate to be able to juggle work with her community efforts. In addition to helping raise funds for the Jesus Center, Laurie coordinated several successful fundraisers for the Chico Police Mounted Unit, as well as other events.
While working at the Jesus Center, Laurie realized her passion was serving the homeless, addicts, parolees and anyone in need of help who actually wanted to help themselves. Her formal association with the Center ended and she became a "freelance social worker".
Eventually, Laurie joined with a small group of like-minded women in the community. That core group has come to be known as "The Posse." By 2013, this group developed and put into place a concept for the opening of a transition home for women that enabled women to move from sheltering to becoming self-sustaining. This was the beginning of The House of Hope.
Since that time, Laurie and The Posse have continued to help and inspire others to help. She consults with state and local legislators, educators, business people and citizens in general to spread the word. From the homeless, to addicts, to parolees, to veterans, Laurie's passion is that they all matter, and often a single "hand up," not a "hand out," can get them get where they need.
Laurie is not all talk. She and her family have taken in individuals in need of help. One young woman wrote the following after having lived with Laurie and her family:
"Through the course of time that I lived on the Maloney's land, I was not only given love, help, and a stable roof over my head, but I was also given internal gifts like morals and values that had never been introduced to me before. I watched how the family interacted, talking things out with one another, listening, showing support and giving constructive advice. They all worked hard, and they had a solid trust built among the three of them. In a quick manner they extended these things to me and taught me the value of each and every one of them. I still don't think they know that they taught me about the fundamental things in life: family, loyalty, trust, love, honesty, and compassion. Laurie's hand up changed my life forever, and I will never be able to repay her for the gifts she gave me."
To this day, it is not uncommon for Laurie to receive a random call from someone who tells her they were just released from prison, are addicted to meth, are living on
the street or are calling her because someone gave them her number and said "she helps people."
Laurie and husband, Mike, live in Chico with their son Robby. She has two adult step-children who are married and also live in Chico. She has three fantastic grandchildren.
In addition to many other accolades, Laurie was the recipient of the Chamber of Commerce Service Award in 2015. As then CSUC President Paul Zingg said of Laurie, "She affirms for all of us that we all matter. That we are all capable of giving back and paying it forward. That we are all elevated by the acts of goodness and kindness—whether purposeful or random—that are all around us, if we just take the time to notice. If we just take the extra step to embrace them."