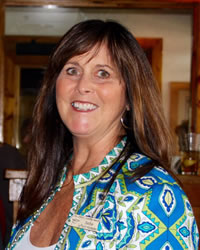 The Class of 1973 alumni remembers Debbie LaPlant Moseley as involved, enthusiastic and always smiling. She exhibits that same exuberance for life and community involvement today. In both junior and senior high, Debbie was involved in many activities, including cheerleading, Drama and Student Government. During her senior year at PV, her teacher, Marge Willis, took eight students to Hawaii for a Drama convention. Exposure to the sun and surf culture of Hawaii provided Debbie with a new passion as well as a new career path. As a public relations student, Debbie continued to travel to Honolulu each summer where she worked and learned more about the Hawaiian culture.
In 1977, Debbie relocated to Newport Beach, immersing herself in the beach lifestyle.While in Southern California, she worked with industry leaders in the promotion of active apparel lines producing and directing special events.Projects included working with Newport Harbor Chamber of Commerce, the Major League Baseball Player's Alumni Association, Professional Athletes Alumni Association, Children's Trade Expo West, City of Hope and others.
Debbie moved back to Chico in 1994 bringing her love of the surf industry to Chico as the owner of her downtown store, Beach It. For over 10 years Debbie influenced area students providing employment and internship opportunities through Beach It's popular Fashion Advisory Board. Through Beach It, Debbie supported countless area non-profit organizations. She was also an active member with the Children's Home Society.
During this time, Debbie served on the Executive Board of the Downtown Chico Business Association, including two terms as President. She also served as interim Executive Director in 1998. As a member of the founder's committee, Debbie was instrumental in the establishment of the Downtown Chico Thursday Night Market. She also developed the conceptual revitalization of A Taste of Chico. As the largest one-day food, beverage, music and fine art festival in the north valley, Taste of Chico has become a "Chico Tradition" for thousands of community-members and visitors alike.
While serving on the Board of Directors of the Chico Chamber of Commerce from 1995-2001, Debbie received the President's Award in 1999. She was elected Board President in 2000 and honored as an Athena Award recipient in 2001.
Debbie continues to be a long-time supporter of the Boys & Girls Clubs of the North Valley, formerly serving on the Executive Board and as the Development Director. She has been a member of Chico Rotary Club since 2002, and has received a Paul Harris Fellowship Award.Currently she is on the Rotary Board of Directors. Since its inception in 2006, Debbie has served as the Director of the Paradise Chocolate Festival, which supports youth organizations on the Paradise Ridge.
Debbie's husband Rex, a former teacher and school administrator, joins her as an avid and active supporter of our region's community.