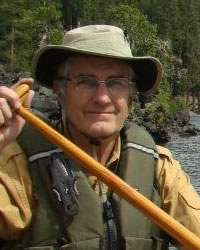 If you have ridden a bicycle in Chico, you have benefited from the tireless activism of Steve O'Bryan. Steve and his wife, Katy, have owned and operated Pullins Cyclery since 1984. One of the oldest bicycle establishments in Northern California, the shop was originally purchased by Vern Pullins in 1918. Steve worked for Vern Pullins through high school while participating in cross country and the Letterman Society at PV. After graduating in 1973, Steve attended Butte College and became active in Chico's fledgling cycling community.
Steve has been a part of Chico Velo Cycling Club since its inception in 1980. He has served on the Bicycle Advisory Committee, advising the City Council on the implementation of the City's Bike Plan and promoting bicycling and bicycle safety in the community. The Bicycle Advisory Committee has also played an integral role in obtaining grant funding for the creation of bike paths around town and schools, allowing for safe and fun bike travel through Chico. Voted Chico's Best Bike Shop seventeen times over the years, Pullins Cyclery has supported multiple non-profits with bicycle and merchandise donations.
Steve's consistent activism to make Chico a great place to live has not been limited to cycling. Steve has served on the Chico Park Commission, the Parking Place Commission, the Chico Planning Commission, the CUSD school board and a term as president of the Downtown Chico Business Association.
Born and raised in Chico, Steve attended Hooker Oak and Neal Dow elementary schools, Bidwell Jr. High and he graduated from Pleasant Valley High School. Steve married Katy in 1982 and their four children, Connor, Grady, Clare and Ian, attended Neal Dow, Bidwell Jr. High and Pleasant Valley.
Another of Steve's longtime passions was ignited at PV. A course in Radio, TV and Film production taught by Steve Hostettler introduced Steve to radio production. In 1990 Steve was one of a group of music lovers that came together to form KZFR 90.1 Community Radio. For sixteen years Steve has hosted the Celt Radio show on KZFR and plays an active role in supporting music and arts in Chico.