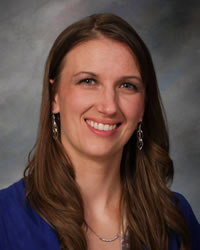 Anna Griffith, class of 2002, was born and raised in Chico and attended Notre Dame and Bidwell Junior High before entering PVHS. While attending PVHS, Anna was an excellent academic student, was involved in Student Government and was also a strong athlete. She was a star player on both the basketball team and the volleyball team. She received a scholarship from Gatorade for her many athletic accomplishments.
After PV, Anna attended UC Davis, enjoying the fact that it reminded her a lot of Chico, and that she was able to play basketball for UCD, for which she was awarded the Coach's Award.
While at PV, Anna became interested in neurobiology and then majored in Neurobiology, Physiology and Behavior at UC Davis. In addition to her normal studies, Anna did an internship helping with research in the Child Development department. She did another at the UCD Medical Center Neurology clinic, and later worked for the MIND Institute (Medical Investigation of Neurodevelopmental Disorders). Additionally, Anna tutored students in physics. Towards the end of her tenure at UC Davis, she wrote articles for the school paper, and for a biological journal about autism and Alzheimer's. Anna was chosen for the Bonnheim Scholarship her last three years at UC Davis.
Anna was in the Phi Beta Kappa Honor Society and received an award for achievement before graduation from the Neurobiology, Physiology and Behavior Dept.
After graduating from UCD, Anna became a freelance writer for Scientific American magazine, and published several articles. That year she also coached junior high volleyball and basketball for CARD, volunteered at Handi-Riders, and taught at a high school math and science summer program at Phillips Academy in Andover, MA.
Discovering vision therapy was a big reason why Anna decided to go to optometry school. In addition, she was driven by the ability to detect things about health from the eyes, and by helping people see better. Anna attended UC Berkeley for optometry school where she was in the optometry honor society, Beta Sigma Kappa, and won the school's "Quiz Bowl" Jeopardy and represented UCB at the "Optometry Superbowl" Jeopardy in Orlando, FL. She was also in her class's student government and represented the optometry school in the Graduate Student Assembly. Anna was selected for the one residency spot in Vision Therapy, Rehabilitation and Pediatrics at Oregon's Pacific University. While there, she volunteered for Special Olympics vision screenings and was also involved with two research studies, one for infant vision and another for traumatic brain injury. She was a lecturer and presented at national optometry meetings. After residency Anna published a paper, finishing her requirements, and passed a panel interview to obtain her Fellowship in the American Academy of Optometry.
Before going to optometry school Anna called all of the optometrists in Chico, and found that no one did Vision Therapy. She wanted to bring Vision Therapy to Chico when she graduated. In 2012 Anna joined Family Eye Care. Then, in December 2015, she opened the Vision Training Center next door to have a more ideal space for vision therapy and also a place to do Sports Vision Training. Anna continues to work at Family Eye Care and feels fortunate to work with fantastic people in a great practice.
Shortly after moving back to Chico, Anna joined the Active 20-30 Club for several years to do community service centered around children and families, and she also served as board member and historian. Anna does free vision screenings every summer for their Back-to-School event. She has volunteered to be a speaker at the Enloe Moms' Classes on infant and toddler vision, and has written for Growing Up Chico and the Enterprise Record. Anna was nominated and chosen for North State Parent's "Be the Change."
The daughter of Jim and Debbie Griffith, Anna has one younger brother, Joe, who also resides in Chico.