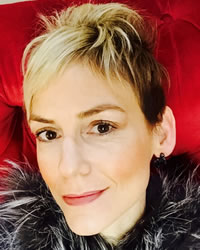 While at PVHS, Ryan was active in clubs, sports and academics, being one of the first IB candidates and an award-winning member of the highly successful Aca Deca Team.
After graduating PVHS in 1992, Ryan attended Stanford University, where she played Division I field hockey and was a member of the Chi Omega fraternity. She graduated in '96 with a BA in Classical Studies.
Ryan earned her J.D., magna cum laude, from Boston University School of Law in '99, where she served as Article Editor for the Law Review. Ryan then moved to Los Angeles, where she practiced law in the litigation department of Paul, Hastings, Janofsky & Walker LLP, representing corporations and individuals in a variety of litigation matters. In 2002, Ryan relocated to the Bay Area, where she continued to practice litigation in Paul Hastings' San Francisco office.
Ryan transitioned to solo, part-time legal practice in 2003 in Modesto where she and her husband, Ernest, are raising two young children – Gloria (11 and in 6th grade) and Ernest O. (8 and in 3rd grade). Since opening her solo practice, Ryan has crafted a varied, primarily pro bono legal practice, which has included assisting a physician in the creation of a non-profit organization that provides healthcare to needy families around the world, representing a Salvadoran immigrant in removal proceedings and helping him to gain legal permanent residence in the US, assisting in an adoption, and helping to resolve a landlord/tenant dispute allowing a single, unemployed mother to avoid bankruptcy and homelessness. Her most recent legal work has focused on education law, specifically the California Charter Schools Act, assisting a public school in its attempt to convert to a charter school and advising various non-profit organizations on a range of issues.
Ryan has served on the board of the Education Foundation of Stanislaus County and as Co-Chair for the Stanford University, Class of '96 tenth and fifteenth Year Reunion Gift Campaigns. She is currently a Trustee for Boston University, a member of the Board of Directors of the Gallo Center for the Arts, a member of the Art Restores Kids steering committee for the Stanislaus Family Justice Center, and an advisory board member for the Modesto-Stanislaus Poetry Center.
In her free time, Ryan enjoys creating in her art studio via painting and drawing. She also loves cooking vegetarian/vegan cuisine, playing with her children and husband, reading, writing, solving crossword puzzles, and travel.